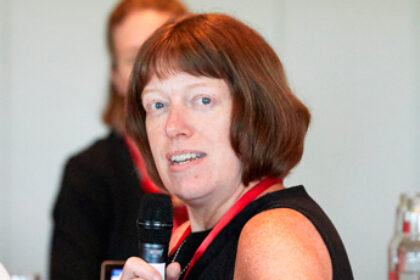 Katie Burke
EIC Board Member, Senior Manager CES Ireland
Email: [email protected]
Good implementation is like many of the complicated things in life – it takes skilled people to do it well.
We learn and develop as people and professionals to become good teachers, doctors, social workers, policy makers and parents, so wouldn't it be normal that we need to learn and develop certain competencies to become 'good implementers'?
Yes, implementation benefits from robust implementation frameworks, models, strategies and tools– but all of these need to be translated and tailored for use in the real world. That's where skilled professionals come into the picture – those with the competencies to support and enable stakeholders and communities to implement effective interventions.
So, who are these professionals who support implementation?
Let's call them implementation support practitioners. They are people who assist communities, organisations, leaders and staff in their implementation of evidence-informed practices and policies. They often are trained in specialist disciplines such as social work, public health, mental and behavioural health and education. They bring their content knowledge and expertise to a range of contexts. They help to translate research evidence and make it applicable for particular disciplines in different service settings under a variety of conditions. They may reside inside the service systems they support or they may be part of external support structures. 
Research on the role of implementation support practitioners is both embryonic and scattered across multiple "schools of thought". Some call them facilitators, others refer to technical assistance providers. Some receive implementation support from coaches, others prefer to work with consultants. Some develop knowledge brokers, others rely on implementation guides. But do we really need all of this? A diverse terminology makes it hard for frontline services and intermediary organisations to easily grasp, what exactly they should expect from implementation support practitioners. What knowledge, skills and attitudes do they bring when providing valuable implementation support?
If implementation support practitioners are a linchpin in developing and improving implementation practice, this is a burning question. So far, we have not been particularly successful at transferring implementation science into the real-world settings in which we all work. But it is exactly in these settings, that implementation capacity is really needed – at the frontline of service delivery, where skilled practitioners collaborate with children, youth, adults, families and communities. It is in these settings that we need to get serious about building implementation capacity – because it is in these settings that capacity is most likely to make an immediate difference to quality and outcomes.
And what are the guiding principles and core competencies needed by professionals supporting implementation?
We – an international collaboration of implementation colleagues – decided to cut through the diverse terminology, give it a go and get serious about this. Based on both the implementation science literature and the real-world experience of implementation support practitioners, our work involved mapping and understanding the key competencies that implementation support practitioners require.
Guiding Principles for supporting implementation
We identified six central Principles that should inform the work of implementation support practitioners. They are the foundational attitudes with which they approach their work, decision-making and interactions with communities, organisations, and stakeholders. They include:
Be empathetic
Be curious
Be committed
Advance equity
Use critical thinking
Embrace cross-disciplinary approaches
Core Competencies for supporting implementation
We also identified the Core Competencies that professionals supporting implementation of evidence-informed practices, policies and programmes should draw on when doing their work. They are the necessary abilities of implementation support practitioners, including the specific knowledge, resources and skills they bring to bear in their work.
We contend that there are 15 core competencies needed by professionals supporting implementation, and these can be grouped into three domains:
Co-creation and engagement – promoting and facilitating the active involvement of stakeholders in all stages of the design and implementation process
Ongoing improvement – supporting the use of feedback at each stage of implementation, through regular individual, team, and stakeholder debriefings to support improvement
Sustaining change – programmes and practices are sustained when the core elements are maintained or delivered with integrity, after initial implementation support has been withdrawn, and adequate capacity exists to continue maintaining these core elements
The graphic below illustrates the 15 competencies, the 3 domains and the 6 principles which should guide the work of implementation support practitioners.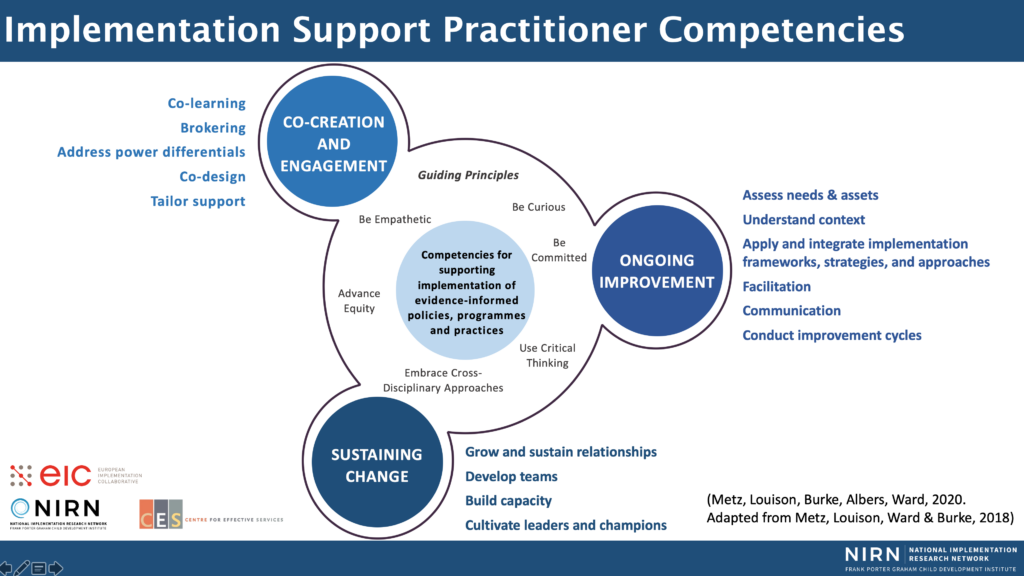 This is only a summary of what we have found. The most recent "Implementation Support Practitioner Profile" is now available online, together with other outputs that have emerged – or will emerge – from our work. We hope that the profile can help others to plan for, reflect on, and be creative about implementation support; to build local implementation capacity; and to get serious about building implementation knowledge, skills and attitudes in the field. It is definitely needed!
Finally, a shout out to the many international collaborators involved in this work on implementation competencies in the European Implementation Collaborative, NIRN/ University of North Carolina (USA) and the Centre for Effective Services (Ireland). A special thanks to Allison Metz who initiated this work and Bianca Albers who joined us and enhanced the journey.