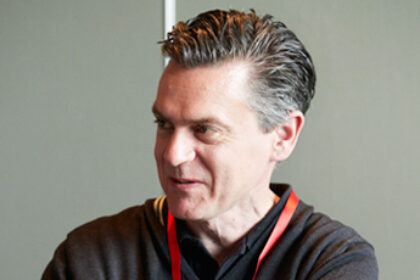 Tom Jefford, PhD
EIC Board Member; FPM Business Director – Family Psychology Mutual, London
Twitter: @TomJefford
The COVID-19 crisis is a terrible unprecedented blight and has turned many lives upside down. It has also created opportunities, which earlier in the year would have been unthinkable. Society is in an unfrozen state in which sudden movement and change is possible. We – agencies delivering human services to children, families and communities in need of support – have all adapted both willingly and unwillingly as every facet of human activity has altered, sometimes a little, often a lot.
In leading a company delivering research-supported interventions such as Functional Family Therapy (FFT) to families in Eastern England and London, I was used to being in close contact with our families, since most of our services were delivered face-to-face in family homes.  As the COVID-19 pandemic took hold, this had to change immediately – requiring a process of rapid adaptation.
We moved quickly to online delivery and remote working, as it became clear that working in the front room of a family had become a dangerous place for infection.
Whilst our own IT and software were fit for purpose, that of families was often not. We confronted a range of IT issues and ended up buying tablets and Facebook portals for some families, who were otherwise digitally left behind. Phones, too, for data connection when needed and where rural Wi-Fi was letting us down. Often, we depended on the young people, whom we work with to help their parents set up IT, so that we could continue to deliver family sessions via Zoom.
In this period, we learned a great deal. Families, who had started with us pre-lockdown transitioned to online services pretty well, as they had a pre-existing relationship with their therapist. New cases on the other hand, which were started online, required more contacts in the early engagement phase to develop proper relationships. But it was still possible to engage. Perhaps we needed to remind ourselves sometimes that families, who were difficult to engage before COVID-19, also were going to be difficult to engage during the COVID-19 crisis and lockdown.
Therapists began to experiment with doorstep calls to introduce themselves from a safe distance and to wave and say 'hi' to the family. Sometimes dropping off resources, too. This was an effort in humanising the contact and building engagement. One therapist created a short introductory video about FFT and – ahead of the programme's intake session – introduced herself to a new family in this way. Another therapist shared and acknowledged with a family from the get-go how awkward and strange the virtual working was, using humour as a tool for facilitating the session. This therapist also was the first to show her face on a video call, opening up a bit of vulnerability first to then encourage the family to follow and turn on the video screen themselves.
Sometimes therapists would state the limitations of being able to pick up all communication cues from a family and would ask 'what should I look out for to help me understand if any of you become uncomfortable during a session?'. It sometimes felt that therapists needed to bring more of themselves into the session to hold it and open the space for the family to feel comfortable. This led to new solutions, one of which involved a young person sitting in their room on Zoom, with their mother downstairs on her computer using Zoom and the therapist remotely working at home. This was engagement, but would it have happened in real life like this? Perhaps with the young person just outside the room and unsure whether to enter or not. In another case I heard about, a lorry driving father joined a family meeting from a motorway layby, giving clues about how we engage in new ways and think about how to innovate in these new pandemic times.
This also applies to how we support our staff. Zoom calls have an intensity, which requires sessions to be shorter and contacts between therapists and families to be more frequent. They exhaust therapists as well as families in a different way and make it important to limit the number of Zoom calls that therapists schedule each day. This meant that we needed to find our own way of providing support to our staff. As a company, we started holding regular team and whole company Zoom calls and then added some social Zoom calls. By week five the message from staff was 'can we please limit these as it is too much'. Finding the right level of support for staff has been tricky, not least as some therapists were at home alone and others were with their children all day. What shone through was the universal desire to do the best possible for families in these extraordinary times.  
As lockdown ends, will we get back to pre-pandemic conditions? Hopefully not. Instead, we should take our new learning into new practice with us and create a new normal – for example in the form of a hybrid model of face to face and online family services, allowing us to integrate the best aspects of both approaches for the benefit of families. However, the evidence has yet to catch up and we should not make assumptions of quality and effectiveness without outcome data.
Rapid research into rapid adaptation is warranted!